Present: Guest Professor at Universidade de Coimbra (FCTUC)
Senior Researcher at IMAR
Development of 1D/1D and 1D/2D urban integrated hydraulic models
Development of 1D and 2D hydraulic models used in open channel transient flows
Measures to provide more Flood Resilient Cities
Hydrological Studies of Wind-Driven Rainfall and their influence on the spatial distribution
Defining parameters of runoff hydrologic models with hydraulic models
Further Research Interests:
Open channel Dam-break analysis
Modeling of urban structures and specific elements using either CFD or experimental facilities
Measurement of air-entrainment in complex flow structures such as hydraulic jumps, stepped spillways, etc.
Uncertainty analysis of rainfall-runoff models
Links to some Videos:
Numerical Modeling of 3D phenomena using the OpenFoam toolkit (MLE-Project):
Numerical Modeling of 2D phenomena using In-house source code:
Flood Movie displayed during the TORC Workshop at the UDM conference in Belgrade 2012:
Research Projects:
2008-2012: (PI) PTDC/AAC-AMB/101197/2008 - Experimental validation of the theoretical Multiple-Linking-Element (linkage-model) for improving integrated sewer/surface Urban Flood Models.
2008-2013: PTDC/ECM/105446/2008 - Experimental and Numerical set-up for validation of the Dual-Drainage (sewer/surface) concept in an Urban Flooding framework.
2010- 2016: SFRH/PROTEC/67486/2010: "Avanços na Modelação Numérica de Escoamentos em Meios Urbanos".
2011- 2015: SFRH/BD/81869/2011 "Development of a State of the Art Urban Flood Model (UFM)".
2012 -2016: SFRH/BD/85783/2012 "Numerical and experimental study of the free surface behaviour of flood control devices under turbulent conditions".
2013-2014: (PI) "Dual Drainage, DFG – Initiation of International Collaboration: Guest Visit/ Trip Abroad Proposal".
2014-2017: FP7-PEOPLE-2013-ITN-: "QUICS"- Quantifying Uncertainty in Integrated Catchment Studies", PI Dr. Alma Schellart from the University of Bradford.
2014-2017: EPSRC: EP/K040405/1, PI "Experimental and Numerical Investigation of Flow Exchange in Urban Flood Flows", PI Dr. James Shucksmith from the University of Sheffield.
List of Publications in international scientific periodicals with referee (ISI):
<![if !supportLists]>1) <![endif]>Leandro, J., Chen, A. S., Djordjevic, S. and Dragan, S. (2009)" A comparison of 1D/1D and 1D/2D coupled hydraulic models for urban flood simulation" J. of Hydraul. Eng-ASCE, 135, 6 (1), 495-504.
2) Dawson RJ, Speight L, Hall JW, Djordjevic S, Savic DA, Leandro J. (2008) Attribution of flood risk in urban areas. Journal of Hydroinformatics-IWA;10(4):275-88.
5) Carvalho, R., Leandro, J. (2011) "Hydraulic characteristics of a drop square manhole with a downstream control gate" Journal of Irrigation and Drainage Engineering-ASCE.
6) Isidoro, J., de Lima, J., Leandro J. (2012) "Influence of wind-driven rain on the rainfall-runoff process for urban areas: Scale model of high-rise buildings" Urban Water Journal-Taylor&Francis, 9 (3), 199-210.
10) Romagnoli, M., Carvalho, R., and Leandro, J. (2013). "Turbulence Characterization in a Gully with Reverse Flow." J. Hydraul. Eng., 139(7), 736–744.
13) Martins, R., Leandro, J., and Carvalho, R. dF. De. (2014). Characterization of the hydraulic performance of a gully under drainage conditions. Water Sci Technol. [paper accepted for publication on 14/03/2014].
Links to my CV and Websites:
Scientific Committee
Advances in Numerical Modelling of Hydrodynamics 2015
Local Organizing Committee
International Workshop on Hydraulic Structures 2015
Urban Water Journal
SP: Towards more Flood Resilient Cities
Photos with colleagues and friends:
<![if !vml]>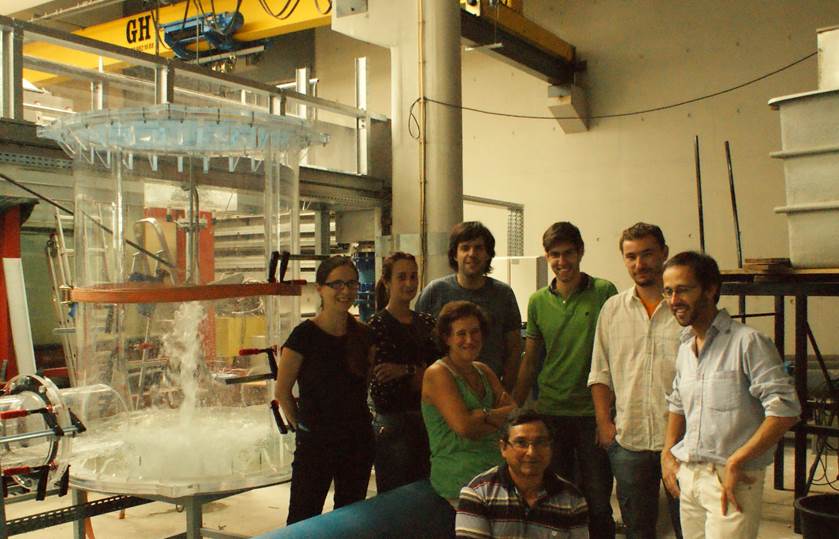 <![endif]>
At the University of Coimbra Laboratory with Patricia Páscoa, Raquel Quinteiro, João Abrantes, Pedro Lopes, Ricardo Martins, Rita Carvalho and Joaquim Cordeiro, taken on the 18-7-2012.
<![if !vml]>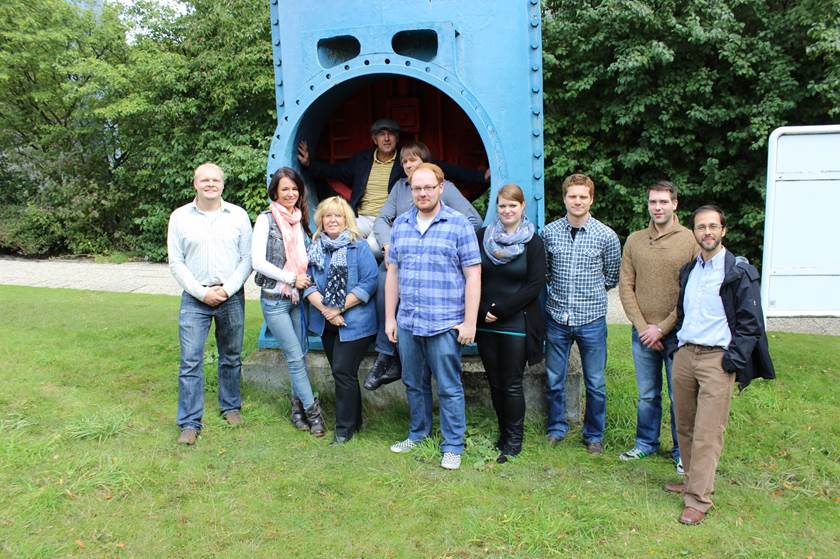 <![endif]>
At the RUHR University of Bochum with colleagues from the Hydrology, Water Resources Management and Environmental Engineering Institute, taken on the 18-9-2013.
16.12.2015